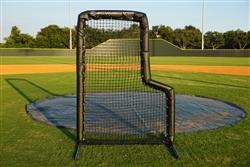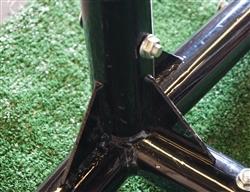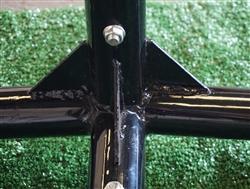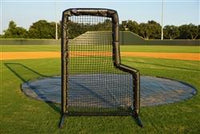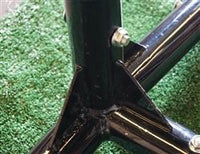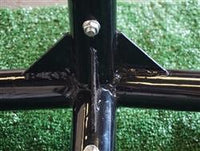 Elite Pro 5x7 L-Screen #96 Netting
The Elite Pro 5x7 L Screen is our top-of-the-line screen. We make it as bulletproof as possible. Training facility tough to accept daily use.
Training facility tough to accept daily use.

Made with thick 2mm/13 gauge 2" steel tubing that is galvanized and then powder coated. Our New compression bolting system makes this frame rigid and strong.

Additional gussets were added to leg and cross joints to make this one of the strongest frames available.

Includes a #96 knotted poly net that slips on pillow case style to provide double protection. Includes thick 1.5" padding with a vinyl wrap.

The new cutout allows for maximum throwing space for coaches and players.

Our 2" Pro wheel kit with airless tires and steel plate cover is also available. (Wheel kit not included with this screen)


Made with thick 2mm/13 gauge 2" steel tubing that is galvanized and then powder coated. Our new compression bolting system makes this frame rigid and strong. 
Additional gussets were added to leg and cross joints to make this one of the strongest frames available. 
Includes a #96 knotted poly net that slips on pillow case style to provide double protection. Includes thick 1.5" padding with a vinyl wrap.
FREE Coaching & Player Articles
Maximum Velocity Sports primary goal is to help coaches and athletes reach their maximum potential! Check out our coaches corner for in-depth information for playes & coaches.