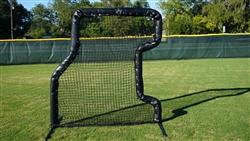 Our new Pro Combo Screen is the most multi-functional protective screen on the market. This screen can be used for a variety of practice drills, most commonly for batting practice, front toss, and fastpitch batting practice. One side has an L-Shaped design with diagonal hip protection for batting practice. The other side has a cutout that is used for front toss and fastpitch batting practice. Instead of buying two or three screens, our Pro Combo Screen gets the job done for all types practice, not only in batting cages, but also on the field as well. The new compact design also makes it easier to transport from the batting cage to the field. If you're not in the mood for that, our 2" Pro Wheel Kit with airless tires and steel plate cover is available.

Features
-#60 netting
-2 gussets on each leg to ensure durability and longevity
-2" and 2mm thick steel tubing
-compression bolt system to ensure rigidity and strength
-1.5" padding with a vinyl wrap
Awesome screen
Absolutely love the quality of this screen. With a son and a daughter playing, I'm able to throw overhand on one side and underhand on the other. Only gripe is I wish it would have came with instructions on putting the padding on. Took a little bit to figure out, but for it. All in all....very pleased
FREE Coaching & Player Articles
Maximum Velocity Sports primary goal is to help coaches and athletes reach their maximum potential! Check out our coaches corner for in-depth information for playes & coaches.