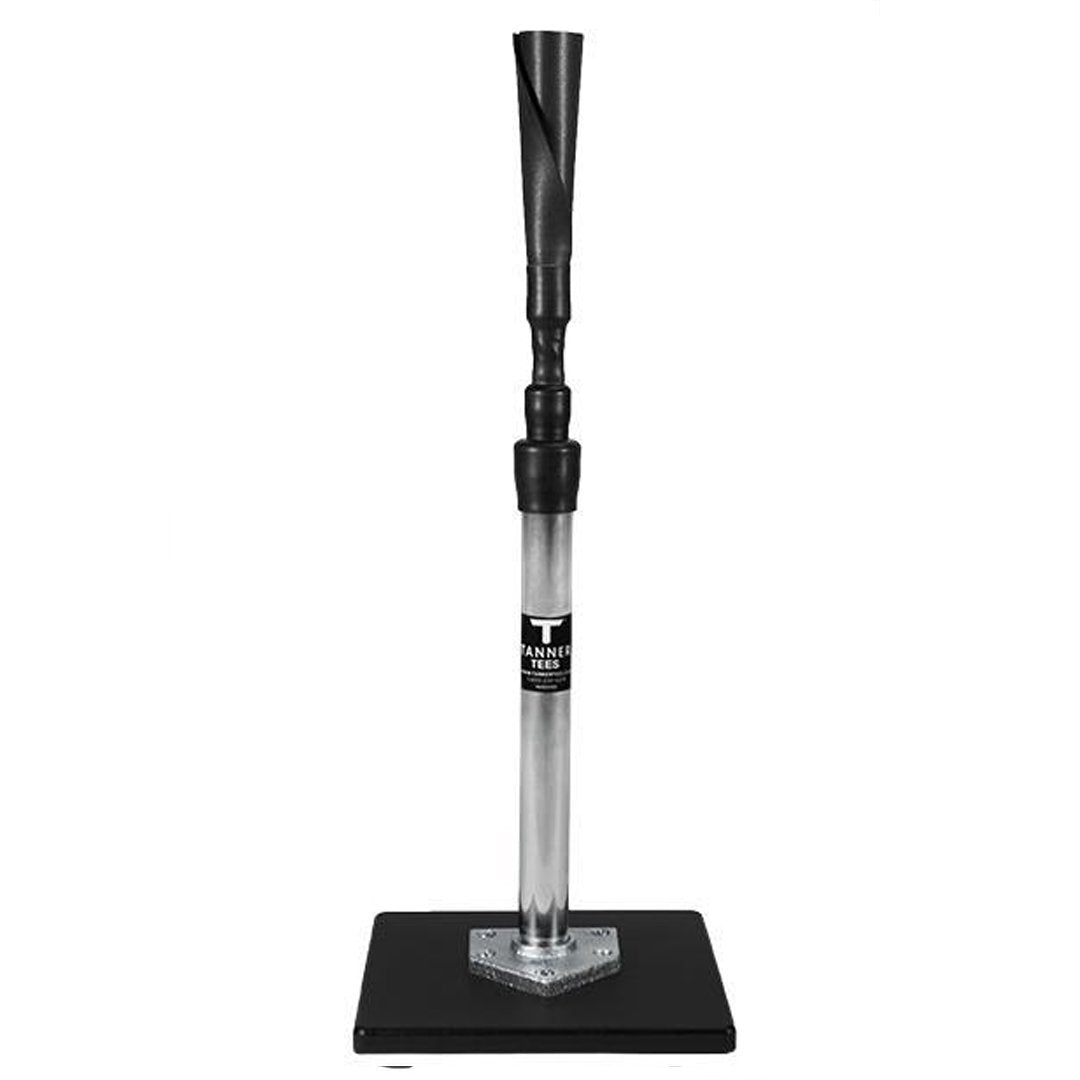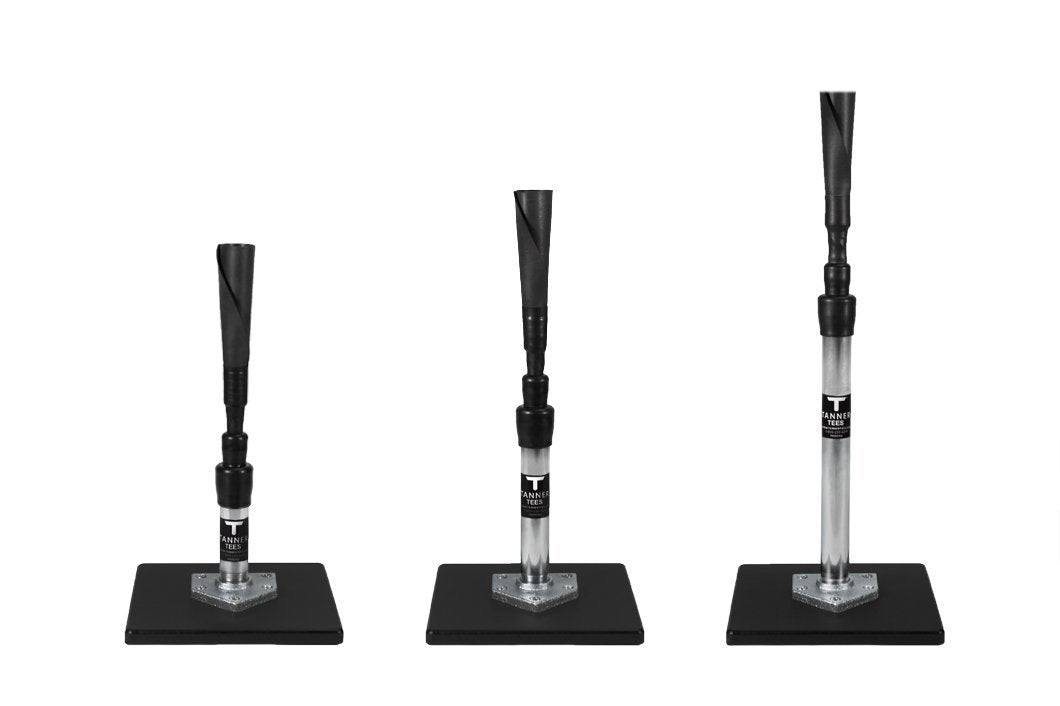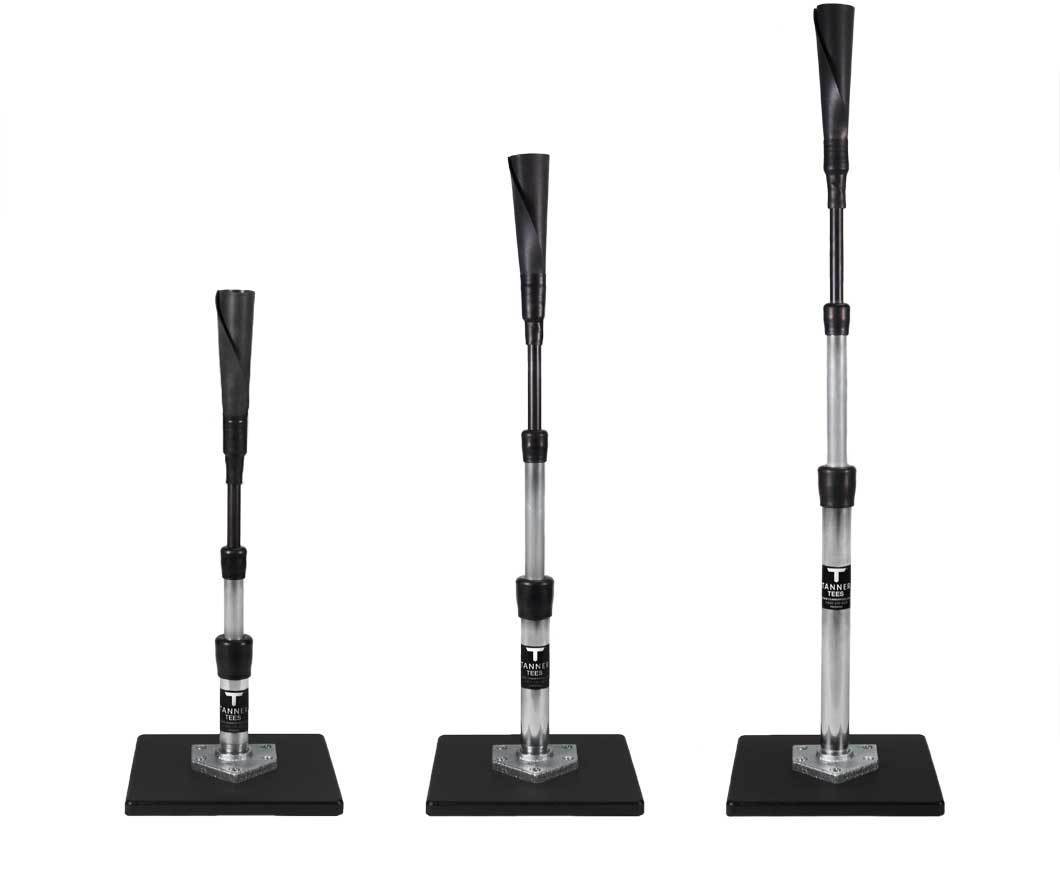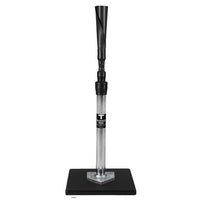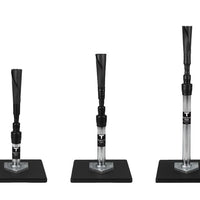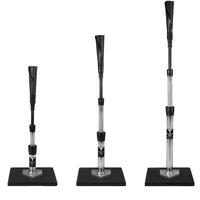 Tanner Tee - The Original
Features & Benefits
The hand rolled rubber FlexTop allows you to feel the ball not the tee at contact for the most realistic hitting experience during tee work
Tanner T-Weight, five and ten pound weights slide easily over top 
Our tees are hand rolled in the USA
Patented tee design and metal construction offers years of proven durability  
Tanner batting tees have been helping players from little league to the big leagues for 20 years
No twists or turns, patented adjustments for adults, youth and low ball training needs
Bases are rounded for safe play and safe travel in your game day bag
Adjustable 26-43 inch recommended for adult and youth ages 9 and above
Adjustable 20-32 inches recommended for adult low ball training and youth ages 8 and below.
Adjustable 16-23 inch custom short recommended for advanced hitters looking for very low tee work 
The Tanner Tee (26-43") is our original pro model Tanner Tee, comprised of two parts, an adjustable stem and a nine inch weather resistant polymer base. This is a best selling hitting tee and is used by all levels of professional baseball, top college and high school programs, and thousands of home users. The hand rolled rubber FlexTop sets Tanner Tees apart from any other training tool. Its flexible rubber allows the bat to pass through the contact point with the least interference, and provides instant feedback with every hit. This hitting tee is the most used, preferred and trusted batting tee among all levels of the game. It breaks down in seconds to fit into any travel bag and is sold with a 9x9" standard base with rounded edges for safety. 
Each Tanner Tee the Original model weighs in at just under six pounds.  
Excellent Tee
Great quality baseball tee. Fast shipping
Tanner t the original
This T is great. I had been using the folding ones. They tip over about half the time. Even if you pick the ball clean. Not this T though.
What I needed
The tee is what I needed at the right price. I would give it a full five stars if the base was heavier. But the tee works great and has been beaten up since I bought it.
Excellent buying experience
Easy to buy and lightning quick shipping
FREE Coaching & Player Articles
Maximum Velocity Sports primary goal is to help coaches and athletes reach their maximum potential! Check out our coaches corner for in-depth information for playes & coaches.