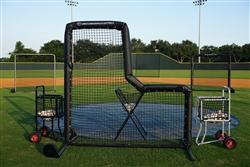 Coaches Complete BP Package | SAVE BIG | FREE SHIPPING
Features
This package includes:
1- Pro L-Screen, wheels included
2- Pro Fields Screens
1- 8x10 Field Screen
1- Pro Ball Cart
1- Pro L-Screen, wheels included
Pro L-Screen is our top-of-the-line protective L-screen. The 2" powder coated steel tubing frame with hip protector is heavy duty and built to last. Frame padding extends the net life, helps reduce ball ricochet and gives a tough strong look.
Large airless wheels provide the Pro L-Screen with a smooth and easy mobility for easy transportation on and off the field.
Thick #60 knotted netting slips over the frame pillow-case style for double protection. 7.5' H x 7.5' W with a 3' x 3' cutout and hip protector offers great protection and in what many coaches say is the best screen on the market, at an even better price.

New improved steel wheel covers protect the life of the wheels. The wheels are airless for trouble free usage.

2- Pro Fields Screens
7x7 Field Screen is the upgraded choice if you are looking for a super durable protective screen. The 7' H x 7' W frame is stable and padded. Made with 2", 15 gauge, galvanized then powder coated steel tubing.
Our new compression bolt together frame provides the strength and stability to withstand batting practice The net is a UV treated #60 knotted net that will last for years. The padding is 1.5" thick with a vinyl wrap.

1- 8x10 Field Screen
The Varsity 8x10 Field Screen offers maximum protection for the bases during fielding drills. Heavy duty #60 knotted, treated netting. Wheel kit available. This screen has a gusset welded onto each leg to ensure durability and longevity.

1- Pro Ball Cart
The Pro Ball Cart can hold up to 280 baseballs and 190 softballs. Large 10" airless wheels make rolling easy. Easy to assemble. This durable product is a perfect match for coaches throwing batting practice on the field. Big enough basket to last long bp sessions.

10" Airless Wheels
1 1/4" galvanized powder coated tubing.
25"L x 17" W x 17" deep basket
FREE Coaching & Player Articles
Maximum Velocity Sports primary goal is to help coaches and athletes reach their maximum potential! Check out our coaches corner for in-depth information for playes & coaches.