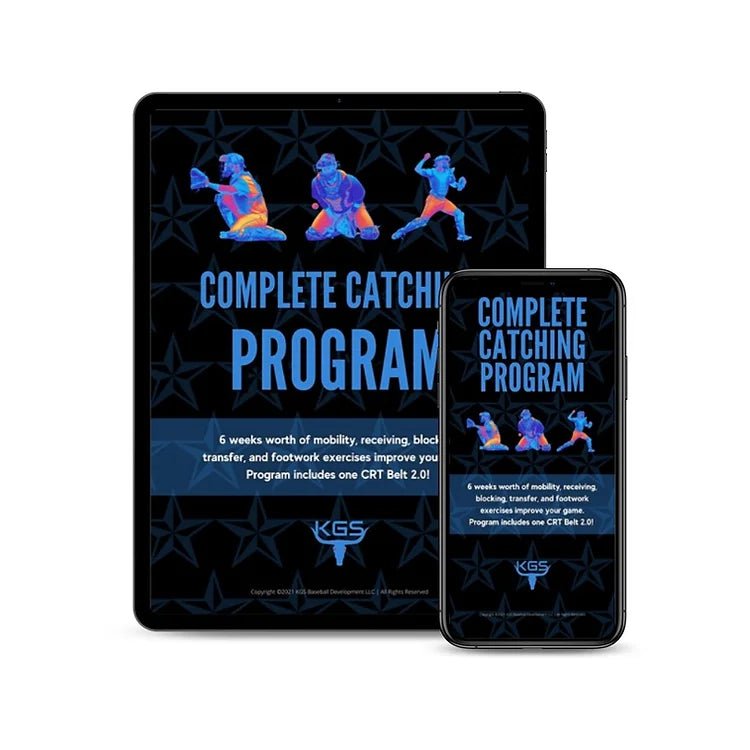 Complete Catching Program - Six Week Catching Program
Program Duration: 6 Weeks
Training Frequency: 1 Hour Per Day; 3 Days Per Week
Required Equipment: Baseballs, Tennis Balls, Plyometric or Weighted Balls, and  CRT Belt
If you're not able to come in for in-person instruction and aren't ready to fully commit to remote training, this is a great option for you. Our programs are structured so that you are completing purposeful work to get better. Within this program, you will develop your skills in receiving, blocking, and footwork to bases/transfering the ball, as well as building your strength and enhancing your mobility by completing structured drill work in two week blocks. The primary focus of this program is your receiving skill.
Also included in this program is a link to access our continually updated drill database with 150+ catching exercises for mobility, strength, footwork, receiving, blocking, and transfer/footwork to bases. This database contains videos and descriptions of every exercise in our catching program as well as others that you can use. We will be adding more exercises to our drill database this fall (2023)!
"Keep the Game Simple"
FREE Coaching & Player Articles
Maximum Velocity Sports primary goal is to help coaches and athletes reach their maximum potential! Check out our coaches corner for in-depth information for playes & coaches.