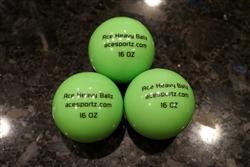 The Ace Heavy Ballz is the new tool for helping both baseball and softball players gain strength while swinging off the tee or through soft toss. They are 3 inches in diameter and weigh 16 oz. Halfway filled with sand makes the weight exactly 1lb.
The Ace Heavy Ballz gives instant feedback to the hitter right at contact. When the batter squares up the ball, not only will the ball keep its shape, it will travel at least 10 feet in the air. When mishit or not squared up, the ball will go straight into the ground and will make the ball misshapen at contact. These training balls are used primarily for front and side toss.
FREE Coaching & Player Articles
Maximum Velocity Sports primary goal is to help coaches and athletes reach their maximum potential! Check out our coaches corner for in-depth information for playes & coaches.