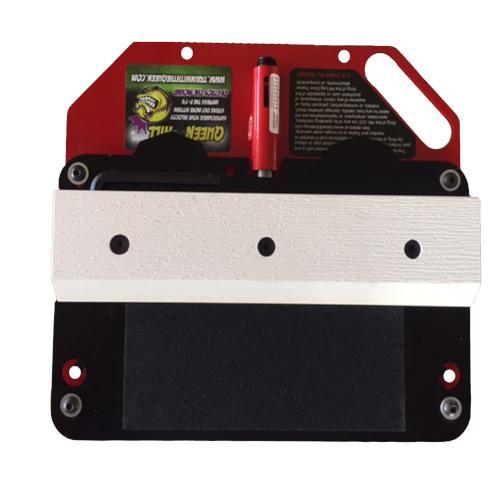 Queen of the Hill Pitching Trainer - MLB & D1's #1 Training Device
Queen of the Hill Standard Model
Watch Video to train with the same aid the MLB & D1 National Champions Vanderbilt trains with!!!

Queen of the Hill - Softball
Through consistent reps, the Queen of the Hill will aid in accomplishing the following:
Improvement of mechanics
Gradually increase the leg drive toward home plate
Improved upper body's ability to accelerate and rotate
Faster arm speed and higher velocity at the release
Reduced stress on the pitching arm
With the immediate audible feedback, it becomes easy for the athlete to acknowledge the feel of using the lower half and producing ground force to drive towards home plate. Once the player has mastered the technique of utilizing their legs and producing leg drive, they can gradually increase the resistance which will challenge them to gradually increase the amount of leg drive used resulting in higher velocity.
The Queen of the Hill trains pitcher to develop a directional force that creates a linear and efficient path towards home plate that results in a long radius stride length. This force, aka Ground Force, transfers up to the legs, through the body, and out of the arm in a chain reaction, taking the stress off of the pitching arm and increasing velocity. Many players reference this chain reaction and the force created as Leg Drive. Instead of using verbal commands or visual aids, the trainer gives a feeling of creating leg drive and driving directly towards home plate with a return of an immediate audible feedback signal when done correctly. Once the player develops leg drive consistently, they will challenge their ability by turning the lever at the back of the patented spring housing to increase the amount of force is takes to hear the audible feedback signal, which will result in higher velocity and consistent health of the pitching arm. With repeated reps, the pitcher will create muscle memory that will cause her to do the same in the game.
Weight 21 lbs
Dimensions 15 x 17 x 2 in
Ok haven't used too much yet
Best tool we have ever had
All of our pitcher's have increase their velocity in just over the last 3 weeks.
This is by far their favorite tool
Great Training Tool
The QOTH really made my daughter focus on her lower half during her motion. We are still working with the QOTH without a ball to develop leg drive. We will be adding a ball and regular full motion. I am excited to see her velocity gains!
Awesome!!
My 11 year old daughter loves this product, it has helped her take alot of thinking out of her pitching. Thank You,
Perfect and just as advertised.
We have this training device in the garage laying on a turfed surface. We watched the you tube training video and followed the instructions. My daughter was having trouble getting the mechanism to "click click." She then really started to focus her attention on her push and drive, and there it was. We moved the spring to 2, and she was click click 4 out 5 times. She pitched maybe 50 balls, and turned and said, "this is a workout."
This thing is great. It really is. I have been coaching a long time and have really been trying to emphasize the push off of the rubber while fast pitch pitching. This training device gives you immediate feedback if you are pushing off like you should be.
And, Coach Kane was wonderful to work with via email. I asked several questions about this device, and he was prompt and on point with his answers. I highly recommend buying this if you are a fast pitch pitcher and want to throw harder.
FREE Coaching & Player Articles
Maximum Velocity Sports primary goal is to help coaches and athletes reach their maximum potential! Check out our coaches corner for in-depth information for playes & coaches.