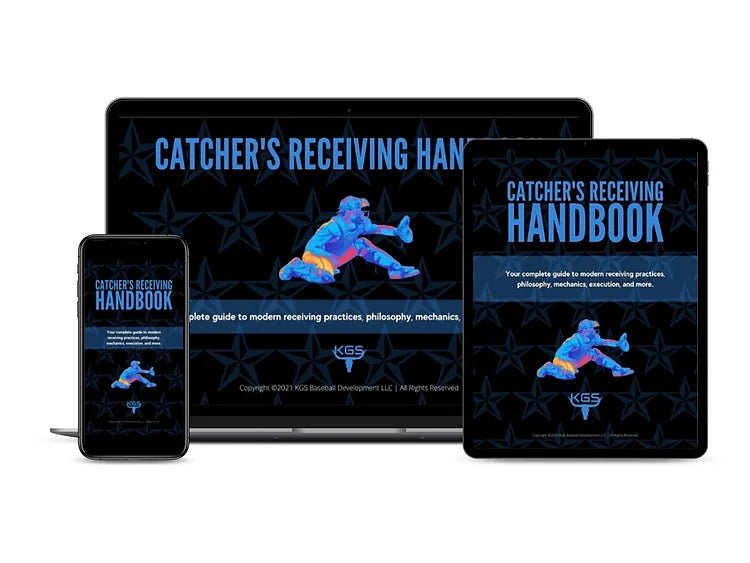 The Catcher's Receiving Handbook
Are you looking for detailed insights on catching techniques? Do you want to understand the latest trends in the position? Our Handbook reinforces our belief that solid receiving is essential in today's game and offers a framework for successful and respected catchers. Written in a professional and objective tone, this eBook covers modern receiving philosophy, stances, targeting, and glove mechanics. Other topics such as sign giving, game calling, and training environments are also discussed. The 100+ pages of actionable content make the Catcher's Receiving Handbook a valuable resource for players, coaches, and parents. Downloading is available immediately after purchase.
This Handbook contains our thoughts on the current state of receiving the baseball and is written from the perspective of a current professional catcher. With so much change at the catching position in recent years, we want to provide a framework for what we feel makes for a successful (and valuable) receiver in today's game. This Handbook is not a list of drills to use while training (however, it does include all of our catching drills). Instead, this Handbook covers:
Modern receiving philosophy (i.e. what "modern" receiving is) 
Traditional and one-knee stances
Using both types of stances for receiving success
Targeting and
Glove mechanics
We also discuss other things we feel are pertinent to receiving the ball, including sign giving, game calling, and receiving focused training environments. The bulk of our Catcher's Receiving Handbook focuses on setups, targeting, and glove mechanics. Whether you are a player, coach, or parent you should find this eBook to be a valuable resource with over 100 pages of actionable content. Handbook will be downloadable immediately upon purchase.
"Keep the Game Simple"
FREE Coaching & Player Articles
Maximum Velocity Sports primary goal is to help coaches and athletes reach their maximum potential! Check out our coaches corner for in-depth information for playes & coaches.