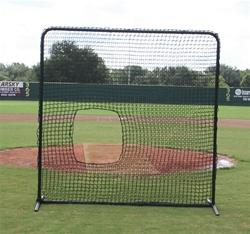 Varsity Softball Pitcher's Screen
The Softball Pitcher's Screen is more durable than your standard screen. Our 1.5" powder coated steel bolt together frame gives the Softball Pitcher's Screen both stability and strength to stand up to the punishment of batting practice. The UV weather treated #60 braided net slips over the frame pillow-case style to offer double protection. The 30" H x 24" W cutout is 21" from the ground to better accomodate most fastpitch softball pitching machines. The 7' H x 7' W offers ample space to throw behind and gives the pitcher a comfortable feel while throwing batting practice. Lastly, this screen has a gusset welded onto each leg to ensure durability and longevity.
FREE Coaching & Player Articles
Maximum Velocity Sports primary goal is to help coaches and athletes reach their maximum potential! Check out our coaches corner for in-depth information for playes & coaches.