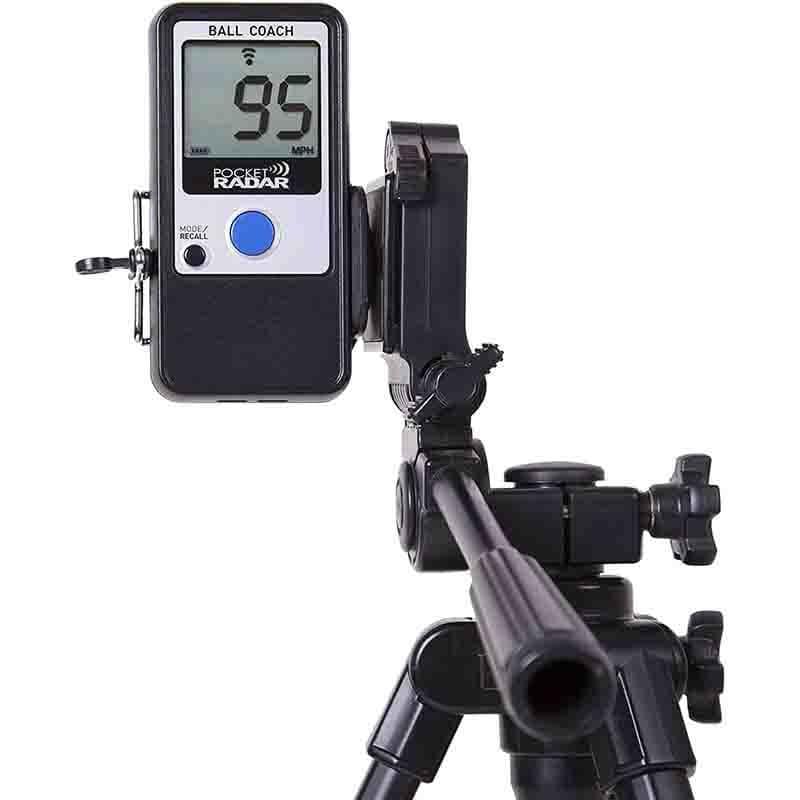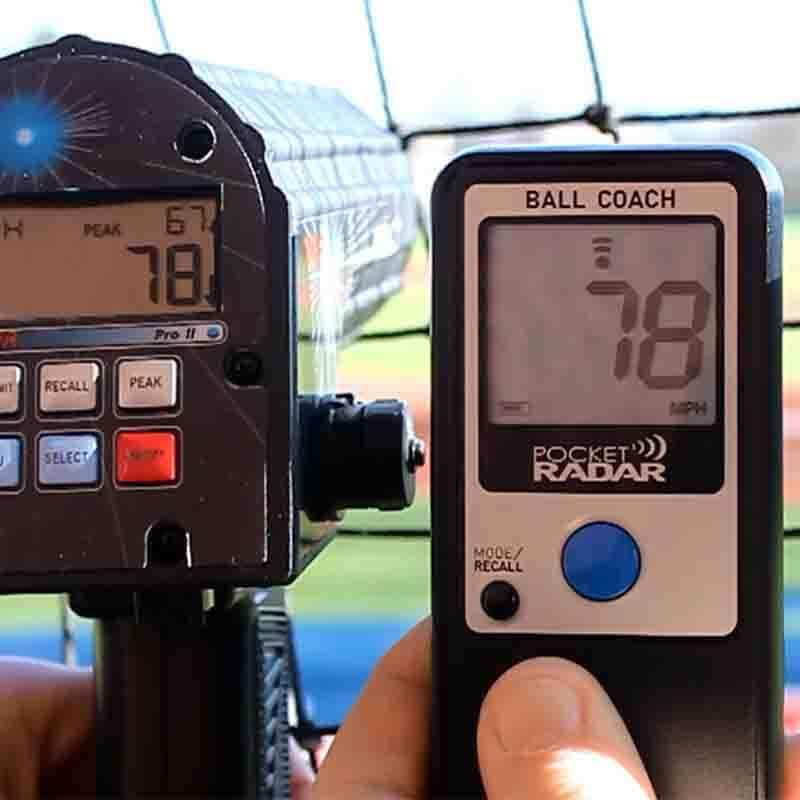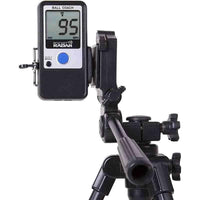 Ball Coach - Capture Exit Velocity & Pitch Velocity
Pocket Radar - Ball Coach / Pro-Level Speed Training Tool & Radar Gun
 Benefits:
Ultra-Portable - fits in any pocket
Accuracy- matches and/or exceeds professional radar guns. Watch Pro Baseball Insider and Current Colorado Rockies Data Analytics Coach compare the Ball Coach to a Stalker $1,200 Radar Gun 
Continuously & Consistently capture one of the most important baseball analytic metrics in baseball today
Exit Velocity has a direct correlation to ball distance
Ball Coach will make you a better baseball player by providing instantaneous feedback swing-by-swing
Train Smarter - Not Harder 
"The Ball Coach radar should be every coach's early warning indicator for player fatigue..."
Tom House, National Pitching Association (Founder)
Compatible in all practice situations...SEE VIDEO HERE
Description: The pro-level Ball Coach™ is a speed training tool and radar gun for player development through one-on-one coaching or self-guided drills and hands-free operation keeps it simple. By making crucial results like hitting power, pitching speeds, serving speeds, shooting speeds, and throwing speeds instantly visible, the Ball Coach is the easy way to get better faster.

The Ball Coach is the ideal choice for measuring ball speeds in baseball, softball, volleyball, tennis, lacrosse, hockey, soccer, and football. Named Best of Show at the 2014 American Baseball Coaches Association national convention, the Ball Coach is the first pro-level radar gun specifically designed for coaching and training. Powerful features include hands-free Constant-On Mode (put all your focus on coaching and training, not the radar gun), easy automatic triggering (simply hold the button down and release when speed appears), and built-in memory with the previous 25 speeds (keep track and review training lessons).
Features / Specs:
Easy automatic operation (simply hold the button down and release when speed appears).
• Constant-On / Personal Training Mode provides versatile hands-free use.
• Automatically finds the fastest speed of a ball.
• Deep memory stores previous 25-speed readings.
• Multiple modes include Constant-On, Clear Memory, Change Units (MPH and KPH), and Immediate Shut-Down.
• Range: 120 feet on a baseball or softball and 150 feet on a volleyball.
• Accuracy: +/- 1 MPH (+/-2 KPH).
• Measures From 25 MPH to 130 MPH (40 KPH to 209 KPH).
• Size: Max Height 4.7 inches, Max Width 2.3 inches, Max Depth 0.8 inches.
• Weight: Less than 3.7 ounces without batteries / 4.5 ounces with batteries.
• Battery life with AAA alkaline batteries (included): Over 2,000 readings in user-triggered mode or over 1 hour in Constant-On Mode.
• Battery life with rechargeable AAA NiMH batteries (not included): Over 4,000 readings in user-triggered mode or over 2 hours in Constant-On Mode.
• Automatically powers off after 30 seconds in user-triggered mode or powers off after 5 minutes of no speed readings in Constant-On Mode.
• Product includes soft-shell belt holster case, wrist strap, 2 AAA alkaline batteries, Quick Start Guide, and 2-year warranty.
• Works with standard camera tripods using a smart-phone tripod mount (not included).
Great Tool
Easy to use, fast delivery, great tool.
Pocket Radar
Easy to use great for helping your pitchers know there speeds for a reasonable price
Pocket Radar - Ball Coach - Capture Exit Velocity & Pitch Speed
Pocket radar
Great buy, great company to do business with highly recommended
FREE Coaching & Player Articles
Maximum Velocity Sports primary goal is to help coaches and athletes reach their maximum potential! Check out our coaches corner for in-depth information for playes & coaches.